The 'Toys' page provides more clues than one might think. It was the last page in my version of the book MT which was originally found as a loosely bound collection of drawings kept in a box. I believe that subsequently the pages have been re-photographed in a slightly different order resulting in the Toys page not being the last one. In any case it is the last numbered page, having 138, 139, 140 and 141 handwritten in the bottom left corner. I have always imagined that it was inserted by Bessler to replace four pages he removed at the time of his arrest when he wrote on the cover;-
"N.B. 1st May, 1733. Due to the arrest, I burned and buried all papers that prove the possibility. However, I have left all demonstrations and experiments since it would be difficult for anybody to see or learn anything about a perpetual motion from them or to decide whether there was any truth in them because no illustration by itself contains a description of the motion; however, taking various illustrations together and combining them with a discerning mind, it will indeed be possible to look for a movement and, finally to find one in them."
This action must have been carried out with the intention of providing some kind of clue in case MT was never published. If publication had been achieved then the original pages would probably have been reinserted. This seems to imply that his consistent use of such clues was part of a deliberate plan to hide clues to his construction for the benefit of those who came after, looking for such information. I do believe that he wasn't just referring to the drawings in MT but also the ones in his published works, i.e.
Gruendlicher Bericht, Apologia Poetica
and
Das Triumphirende.
Did he suspect that he might be imprisoned? Possibly, and then his records might become available to anyone of rank, so he replaced them with something less revealing. My research has shown that he was being subjected to considerable pressure from his in-laws and feared that there was a conspiracy to either force him to reveal his secret or to frame him for some fraudulent dealings.
I have inserted a clarified version of the Toys page which has the four page numbers omitted on the bottom and also the number 5 and the short piece of text which was written next the the spinning top which reads, "
5. Children's game in which there is something extraordinary for anyone who knows how to apply the game in a different way."
The letters run from
A
through to
E
, five letters. But there are six drawings including the top, which is numbered
5
, and not
F.
Note my red lines which align the separate parts of each drawing, there are five. Could he be telling us - yet again, that there are five mechanisms?
I think the letters are written in anticlockwise order to show which drawing should be interpreted first. You can see that A aligns with B but note that the latter is twisted - the small blobs on the left end of each horizontal on A are shown alternately on the left and right of the vertical line labelled B. But are the two pieces meant to refer to the same item, or are they two different parts? I believe they are two different pieces.

There is also the curious attachment of the two rods or levers at the top of the figure B. It must be important otherwise he wouldn't have included it. Does it show two extremes of an action of one lever, or does it represent two levers?
The pantograph shape of C and D is similar to part A, but not to B. There are two Cs and two Ds which suggests that there are two items from the each drawing required for the mechanism. But D has a twisted body which might indicate that it should be reversed or turned upside down, or both. C is wielding an axe or hammer with its arms, which might mean it is applying force to something, but D has no arms, is it being made to move rather than moving something else? I should also point out that each of the pantograph elements in A is linked to the next one in the chain.
Was the later addition of the spinning top an attempt to hint that the 'toys' shown, relate to something that spins? Or was its missing string or cord a hint that string or cord was also required?
In his DasTriumphirende, Bessler writes about the complexities associated with FORM, that is how he writes it, denoting the importance of his message in this passage. My reading of this passage is that a mechanism shown in a drawing may look and seem easily understood, but the intention behind it is to indicate the form or specific shape of a mechanism with a slightly different action. This agrees with his scribbled note in the Toys page, "Children's game in which there is something extraordinary for anyone who knows how to apply the game in a different way", and applies in particular in my opinion to the scissor mechanism labelled E. I think the placing of these 'toys' is deliberate and should be taken into account when considering their meaning and Bessler's intentions.
I don't think that there is any intention to suggestion that
A
is meant to indicate a Jacob's
In view of a recent comment below I'm adding a correct version of the Toys image which has the extended rods on item D shown as they are on the original image. I've no idea how this discrepancy occurred but I hope it may help in the end. Thanks to the anonymous commenter.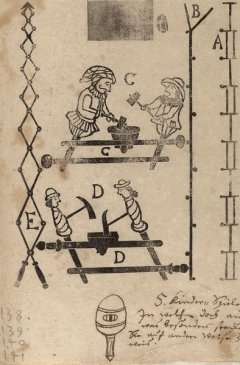 JC
Once again I appeal to your generous natures to donate to my granddaughter Amy at her crowdfunding site. I don't know how aware any of you are about a social networking site called Tiktok, at www.tiktok.com, but Amy is providing an amazing destination for people who have or are suffering from serious illness, urging them to be strong. At last count she has posted over 150 short inspirational videos, has over 11000 followers and 220,000 likes. If you wish you can go to tiktok and search for amyepohl.
If you search on YouTube using the same amyepohl you can find some of her earlier videos explaining her condition
To donate please visit
https://www.gofundme.com/f/help-our-amy-to-walk-again
Thank you!